Omen is MY man!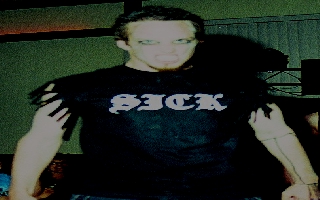 Yeah he's HOTT!

ESW RAWKS HARD!!… SO DOES MANDRAKE!!




Mandrake!!
(Danielle's Man)





My Fiction Diary
www.freeopendiary.com
user: Rvdsmybabydaddy


My Kidnap List

Omen
TSK
Randy Walker
Mastiff
ICE
Tommy Caliber
Shade
Damien Alexander
Derek Wylide
John Cena
Randy Orton
Jeff Hardy
RVD
HBK
Brock Lesnar
Eminem
Blink 182
More to come soon…..


Mandrake's Kidnap List

Danielle

Ur welcome Marc LOL

OH HOLY MARC MANDRAKE:
GONADS!!!!!!

I am the new S.H.I.T... I am Fuck You Dude!
*sings to the tune of Steven Lynch*
If I can be a su-per hero I would be Fuck You Dude
I would walk a-round the city saying Fuck You to alllllll!!!!!

Jack and Jill went up the hill to get sum marijuana
Jack got high and dropped his fly and said to Jill "Do you wanna?"
Jill said yes and dropped her dress and then they had some fun
Silly Jill forgot her pill and then they had a son.

Well i'm out. p-p-p-p-p-p-PEACE!!